Technology's impact on the customer experience
October 9, 2019
128 views
Our industry is using technology like never before to reimagine the consumer claim and repair experience. Digital capabilities are informing, improving and most importantly, helping reduce the overall time from when a loss occurs to when a vehicle is repaired and ready for pickup, which is becoming ever more critical as vehicle complexity, repair costs and cycle time grow.
Today's vehicles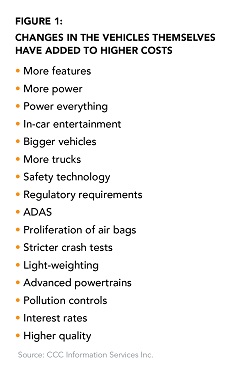 Over the last 15 years, the cost of vehicles in the U.S. has risen steadily, with the average MSRP for vehicles sold in Q1 2019 exceeding $35,000. Much of the increase in the cost of new vehicles is related to improvements in crashworthiness, crash avoidance, fuel economy, occupant protection and consumer comfort. (See Figure 1) Vehicle construction and electronic content have seen the biggest changes too. Automakers are introducing new advanced materials and joining techniques to ensure crashworthiness, remove weight from the vehicle and improve emissions. Electronic content has also soared, with significant increases in the number of sensors, cameras, lidar, radar, wiring harnesses, electronic control modules and other electronic components.
Not surprisingly then, we're seeing the cost of repairing today's more complex vehicle rise as well.  In the last five years, repair costs have risen roughly 3-4% annually — nearly a full basis point higher than the rate of increase seen between 1997 and 2013. When we break the average repair cost down into its individual components, what is clear is that the increase in the number of replaced and repaired parts per claim, and the cost of sublet items such as scanning and calibration have been behind the lion's share of the increase. Not only are more parts included in the repair, but many more of these parts include both the labor to repair/replace the part, and additional labor to return the part to pre-accident condition. (See Figure 2) At the same time, the average price across all parts and part types has risen nearly 20% over the last 15 years.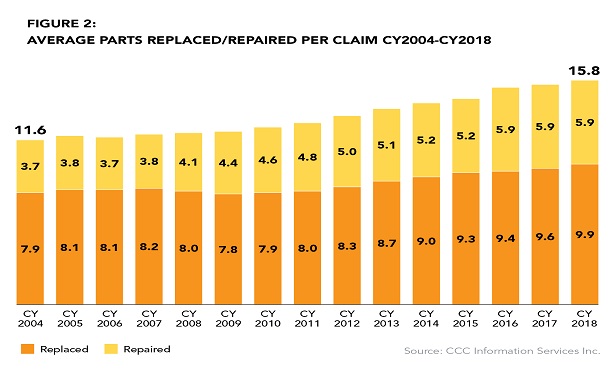 Another side effect of increasing vehicle complexity and repair cost is the increase in the average days for vehicles to be repaired. For every $1,000 increase in the repair cost, there are roughly an additional two days in the overall keys-to-keys cycle time. Shops have been able to check-in and check-out vehicles efficiently, with little change and even some improvement in the vehicle in-to-repair start days and the repair complete to vehicle out days.
With higher repair costs and longer cycle times, the industry in aggregate is seeing lower shop productivity and lower customer satisfaction with both the shop and the insurer. And the return rate of vehicles after the vehicle has been picked up — a key driver of repair satisfaction — is much higher as repair costs increase, nearly 27% for repairs that cost $10,000 or more versus only 5-10% for lower cost repairs.
Improving consumer satisfaction amid rising repair costs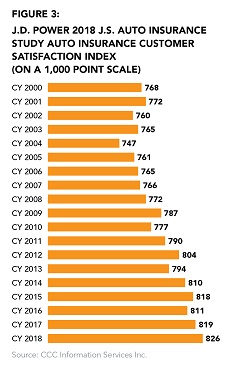 According to the J.D. Power 2018 Auto Insurance Study, better access to online self-service tools through insurer websites and mobile apps has helped drive auto insurance customer satisfaction to its highest level since CY 2000. (See Figure 3) While there are other components that contribute to a customer's overall experience with the insurance industry (such as billing and payment and policy offerings), online and offline service interactions combined account for 67% and were shown to improve with digital interaction.
CCC Information Services, Inc. is seeing strong evidence of the shift toward digital in claims, as many carriers are supporting the capability for consumers to take photos of their damaged vehicle and use those to generate the estimate of record. This removes the need to schedule an appointment at a drive-in, or for an adjuster to come to the vehicle owner's home or work for the inspection.
Repairers can also benefit from using digital technology to help drive customer satisfaction. CCC recently worked with the research company Magid to conduct a survey of consumers regarding their repair experience. Essentially, the study identified that customers overall are satisfied and leave the repair experience with positive feelings.  However, general satisfaction with the experience masks some underlying issues throughout the process — specifically, with the selection process; the shop's ability to convey trust and differentiation and to deliver transparency throughout the process.
The sweet spot
Over the last 15 years, repair costs for the industry have steadily shifted into higher dollar ranges with fewer coming in below $1,000, and roughly 40% now falling between $1,000 and $4,000. Repairs between $3,000 and $4,000, for example, grew from 6.6% of the volume in CY2004 to 8.3% by CY2018. These are historically the claims where we have seen the highest productivity and customer satisfaction index (CSI). By improving cycle time for these losses, both could see even better scores, and ultimately help lift overall shop productivity and CSI for both the repairer and insurer.
If you look at the industry's average cycle time for collision losses between $1,000 and $4,000 from the date of loss through the date the customer picks up the repaired vehicle. In CY 2018, the total number of days on average was 49.3 days. The entire process involves multiple steps and stakeholders — and while repairers and insurers have made improvements in cycle time in certain parts of the process, much of the overall time is still dependent on the consumer making decisions about an unfamiliar process.
Technology is making a difference
For drivable and non-drivable vehicles, the number of days from loss to loss report was dramatically lower by nearly 90% for telematics-enabled claims. We found customers with the telematics-enabled claims also chose photo estimating as the initial method of vehicle inspection more often, resulting in an added reduction in the number of days from assignment sent to estimate upload.
This is consistent with the results seen industry-wide when comparing the difference in cycle times for photo estimated claims versus physical inspections for collision losses between $1,000 and $4,000. The time between assignment sent and estimate upload was shorter for photo claims, and the actual time to produce the estimate was also well over two days shorter.
Putting customers in control
These are a few ways we're seeing the industry using technology to improve and simplify the overall customer experience where the results are meaningful reductions in cycle time and subsequently improvements in overall customer engagement. By providing digital capabilities to the consumer in key parts of an unfamiliar process in a way that provides clear easy-to-understand information, where they can use their smartphone to review that information and make decisions regarding their claim and repair, the overall cycle time industry-wide could potentially see a nearly 15-day improvement.
As vehicle complexity continues to increase, repair costs and repair cycle times are expected to rise further. Our industry will need to continue to evaluate and evolve its use of technology to make positive strides on delivering a consumer experience that can counter the impact of vehicle dynamics.
Susanna Gotsch (sgotsch@cccis.com) is director and industry analyst for CCC Information Services, Inc.
Related: